Cantor Sheri Allen
Cantor Sheri Allen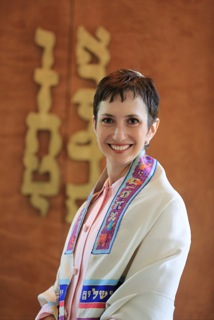 Cantor Sheri Allen is finishing up her eleventh year leading Congregation Beth Shalom in Arlington, TX. She serves on the Ethics Committee of the Cantors Assembly and is also the moderator of the CA listserve, Hazzanet. She is on the board of Care & Prepare, a non-profit organization that addresses end-of-life issues and conducts advance care planning discussions, and serves as the Jewish Community Chaplain for VITAS Healthcare in Ft. Worth.
Cantor Allen helped create The Arlington (Texas) Interfaith Consortium, with the goal of fostering friendship, understanding, and education among faith communities. She is also enthusiastically advocates for LGBTQ rights. In 2018, she served on the Transgender Rights Leadership Committee of the RAC (Religious Action Center of Reform Judaism), was a guest panelist for the Texas Freedom Network's "Countering Hate in the Transgender Community" program, and participated in UNTHSC's symposium, "Out for Health."
Cantor Allen lives in Ft. Worth with her husband Richard, who is a Professor in the Film, Television, and Digital Media Department at TCU. They have three grown children: Jeremy, Emily, and Preston.
Please call the office at 817-860-5448, if you wish to contact Cantor Sheri Allen.
Thu, June 1 2023
12 Sivan 5783
URJ Member
Thu, June 1 2023 12 Sivan 5783