Cantor Sheri Allen
Cantor Sheri Allen
Cantor Sheri Allen is in her tenth year leading Congregation Beth Shalom in Arlington, and is currently serving a three-year term on the Cantors Assembly Executive Council. Click here to see the Cantor's 10-year anniversary Tribute Book!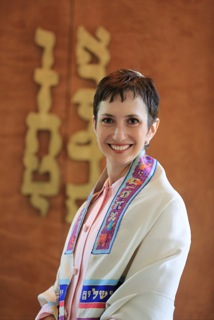 She is also a member of CQEC: The Coalition for Quality End-of-Life Care in Ft. Worth, Texas.
Cantor Allen serves as the Jewish Community Chaplain for VITAS Healthcare in Ft. Worth, providing pastoral care to Jewish patients and conducting seminars on Jewish end-of-life care. In addition, she works as a PRN (as needed) Chaplain at Texas Health Harris Methodist Hospital in Ft. Worth. She has studied Clinical Pastoral Education at Harris as well as the Jewish Theological Seminary in New York.
Cantor Allen is also very involved in interfaith programming. She recently created the Arlington Interfaith Consortium with Pastor John Foster of Shepherd of Life Lutheran Church and Community Speaker Dina Malki, representing the Al-Hedayah Islamic Center, with the goal of fostering friendship, understanding and education among their faith communities.
Cantor Allen lives in Ft. Worth with her husband Richard, who is a Professor in the Film, Television and Digital Media Department at TCU. They have three grown children: Jeremy, Emily, and Preston.
Please call the office at 817-860-5448, if you wish to contact Cantor Sheri Allen.
Fri, June 5 2020
13 Sivan 5780
Upcoming events this week of

June
Patio Brick Project
CBS Brotherhood will be selling commemorative bricks that will be set in the patio on the south side of the building.
Please click here to see how you can personalize a brick with a name, event, or a special message!
URJ Member
Fri, June 5 2020 13 Sivan 5780